By: Mahmoud Gamal
Mubasher: The GCC stock markets are likely to attract retail and institutional investors, mainly foreign traders, this week, analysts told Mubasher.
By the end of Thursday's trading session, most of the Gulf bourses rose, capped by the Abu Dhabi Securities Exchange (ADX), which hit record highs on the back of rising blue-chip stocks led by First Abu Dhabi Bank's (FAB) stock.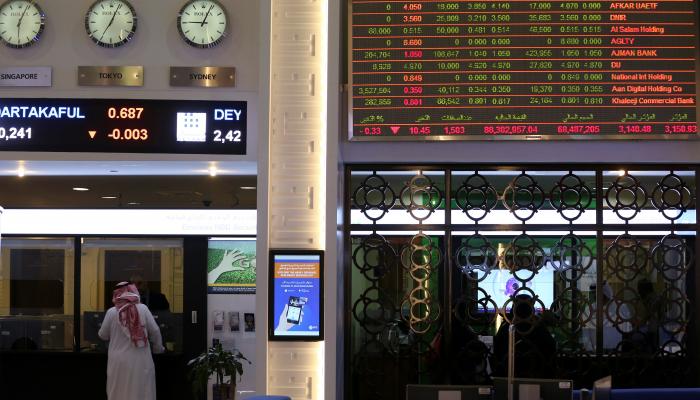 Global markets
Fady Al-Ghattis, CEO of Minecraft Consulting, told Mubasher that the global stock markets currently see a bullish trend on the back of positive expectations that the US economy would grow following the recent issuance of official data.
Accordingly, this will whet foreign investor appetite to invest in the GCC-listed stocks, particularly in the UAE's twin bourses, Al-Ghattis said.
Moreover, oil prices, which exceeded $64 per barrel (pb) in line with the expectations that the Organization of the Petroleum Exporting Countries (OPEC) would keep their output at its current levels in its next meeting to be held in May, are expected to boost the GCC markets this week, he indicated.
He also added that the GCC-listed firms are projected to post solid profits for the first quarter of 2019, which would attract investors over the coming period.
Bourses in the region may see some corrections ahead of Islam's holy month of Ramadan, when investors tend to hold onto their stocks, Al-Ghattis noted.
FTSE
Trades in the GCC bourses currently anticipate the Q1-19 financial results of listed-firms amid positive expectations, economist Mohamed Al-Maimouni said.
The Saudi Stock Exchange (Tadawul) is likely to see weekly gains and hit 9,196 points, its highest level since July 2015, ahead of the inclusion in the FTSE Russell EM index, Al-Maimouni indicated.
The Tadawul-listed stocks are expected to see further gains in line with the second stage of the Saudi stock market inclusion in the FTSE Russell EM index, he projected.
Liquidity
For his part, managing director and head of asset management at Menacorp Tariq Qaqish stressed that the GCC bourses need more liquidity in the coming trading sessions to maintain the bullish trend and break new levels.
The GCC-listed stocks have begun to recover on the back of institutional and retail investments, especially in the banks sector and blue chips that announced cash dividend distributions, Qaqish highlighted.
Stock markets in the region are likely to maintain the bull-run this week, however, they may face a wave of profit-taking, mainly the ADX, in line with the emergence of positive market-boosting catalysts, he added.
He also expected that the real estate stocks would revive this week on the back of the recent initiatives announced by the governments in the region.
It is worth noting that Khalifa bin Zayed Al Nahyan, President of the UAE and ruler of Abu Dhabi, had issued a law allowing non-Emiratis to own real estate investments in the emirate.
Translated by: Mai Ezz El-Din
Source
:
Mubasher Exclusive